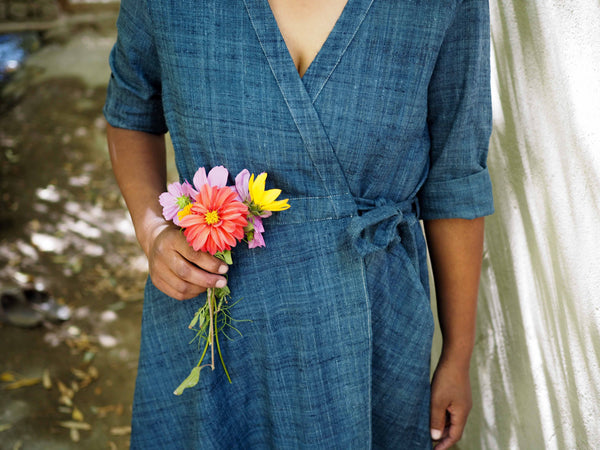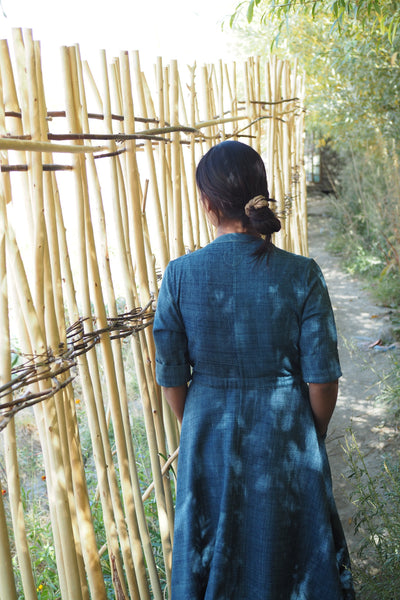 Wrap Dress Munu III
Munu (Assamese) - a loving name for daughters, dedicated to the daughter of our manager Latika
This dress is part of our Munu-Collection, which is available in different colors: natural indigo, warm red (dyed with Indian madder) and sand (dyed with areca nuts). This dress is hand-spun and hand-woven by our team in Assam and sewn in a small studio in South Delhi. The silk is called eri silk and cultivated by Assamese tribal communities South West of Guwahati. It is a wild silk and the moth leaves a hole in the cocoon as it has to be empty before it can be processed. Therefore it has a structure which is rather similar to linen. No chemicals or pesticides have been used during the process.
The dress has a relaxed fit which can be adjusted to fit women of size S and M, in the size S/M as well as the size L/XL, constructed for women wearing L or XL.
The model wears size S/M. The dress has a tunnel belt, which allows the dress to be worn tight on the waist or loose.
Also, the sleeves can be worn down, below the elbow, or rolled up once for a fit above the elbow. The dress features two pockets on the left and right side.
It has small slits on the sides of the skirt which allows free movement.
So comfortable, classic and made for every body type.
100% eri silk from Assam

windproof and very robust fabric, ideal for any season

naturally dyed with Indigo

adjustable waist and sleeves

farming: 45 days 

spinning: 3 days

dyeing: 1 day

weaving: 2 days 

finishing: 5 hours 

woven in Assam and sewn in Delhi
Please note:
This product is entirely made by hand. Therefore, irregularities in thickness of yarn are characteristic to the craft of handspinning. The fabric and the dye will change over time - the silk is becoming softer and the dyes lighter.  It is natural that the color bleeds slightly after the first few washes. Please cold wash only with mild detergent and dry in the shade. Do not soak. For information on washing visit: Care
For information on our sizes please visit: Sizing