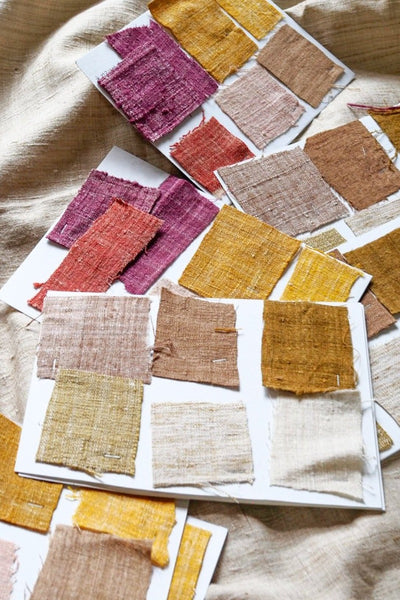 Eri Silk Fabric Sample
This is a selection of our Eri silk fabrics. It is always nice to get an idea of an extraordinary fabric before beginning a project. In this selection you will find 12 shades as followed: undyed, henna + undyed thick, areca nut, Cutch, Tea, light madder, dark madder, lac, indigo, onion skins, jackfruit bark.
100% eri silk from Assam

cream shades + naturally dyed shades

fabric samples around 7cm x 7cm - size can vary
Please note:

This product is entirely made by hand. Therefore, irregularities in thickness of yarn are characteristic to the craft of handspinning. The fabric and the dye will change over time - the silk is becoming softer and the dyes lighter.  
Please cold wash only with mild detergent and dry in the shade. Do not soak. For more information visit: Care